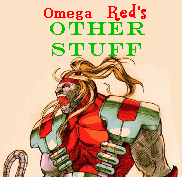 MvComedy's VS. Games FAQ
For those of you who are new to the VS. games, or just want to clear up a few things, read this.
Yutz's Entitling Flukes Contest Entries you never saw
Flukes I made for the Second Make Your Own Entitling Flukes Contest that didn't win. An MvComedy exclusive. My third entry placed 2nd, by the way.
1. Just what the heck is Mario doing in an Earthbound game? - Not my best, but as a Mario fan I couldn't resist trying.
2. Uh oh. We're screwed! - A different entry that used this title won 6th (and since I placed anyway, I'm not complaining).
Guest Comics
Guest comic offerings I've made to various other comic sites I like.
-Collector's Obsession and Collector's Obsession: Accessories - Two comics I made for Pocket Theater during the site's hiatus. The pocket fighters are in the real world...as toys. Featuring Servbot, of course.